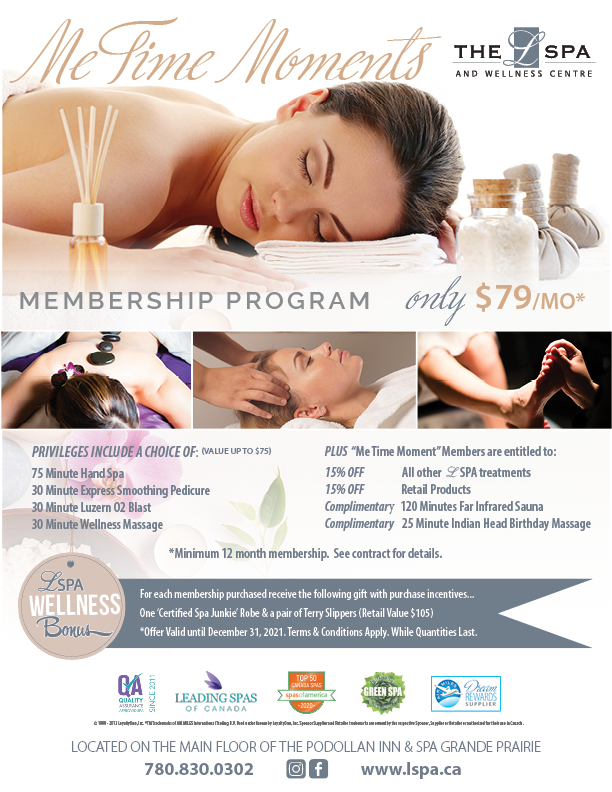 Membership Description
Your membership is auto-renewable. Following the initial term, your membership will automatically continue on a month-to-month basis at the initial rate of your membership until your membership is canceled or terminated.
Member Services
All member services must be used during the current term of your membership and/or prior to the renewal of each term. You may redeem your membership services as long as your membership has been renewed and membership fees are current within each term. Unused services will be non-redeemable once the term has been completed, cancelled or terminated as provided by the membership agreement.
Your membership entitles you to one (1) wellness option at the L Spa and Wellness Centre per month during the term of your membership. Your membership status must be active in order to redeem any membership wellness options. Membership services are not transferable to any other person or entity.
Member birthday massages must be booked within 2 days of the member's birthday. 
As a member you may also receive a discount off the L Spa's regular rate for certain products and services during the term of your membership. Rates are subject to change. Your payment for retail products and services are due at the time of the sale. 
Freezing a Membership
There may be times when you would like to freeze your membership due to extenuating circumstances. When a membership is frozen, a member may not use his/her membership benefits or accrue pre-paid services for the duration of the freeze.
A member must be in good standing to be eligible for a freeze. A minimum of 2 membership payments must have been made prior to a membership being eligible to be frozen.
You may freeze your membership for a minimum of 30 days and a maximum of 3 months. Memberships may be unfrozen at anytime at least 30 days after the freeze start date or will automatically recommence on the pre-determined freeze end date. At the end of the membership freeze term, your dues will continue with your next schedule electronic funds transfer date. Your membership expiration date will be extended by the amount of time your membership was frozen. Only one complimentary freeze permitted per term. Additional freeze periods will incur a $9.95 administration fee.
Cancelling a Membership
If you would like to cancel your membership, please provide us with 30 days written notice to relax@www.lspa.ca
 CANCELLATION DURING YOUR INITIAL TERM: You may cancel this Agreement during the initial term of your membership upon the following conditions:

You change you permanent residence to a location more than 60 km away from The L Spa and Wellness Centre.
Your death of permanent physical disability

CANCELLATION DURING AUTO-RENEWALBLE TERM: During the auto-renewable term of your membership, you may cancel your membership upon 30-day advanced written notice to The L Spa and Wellness Centre. You are responsible for all membership fees incurred until you cancel your membership in accordance with the terms of the Membership Agreement. A
* Membership rates are subject to change without prior notice. For so long as a member keeps his/her membership in good standing, his/her membership rate will always remain the same.