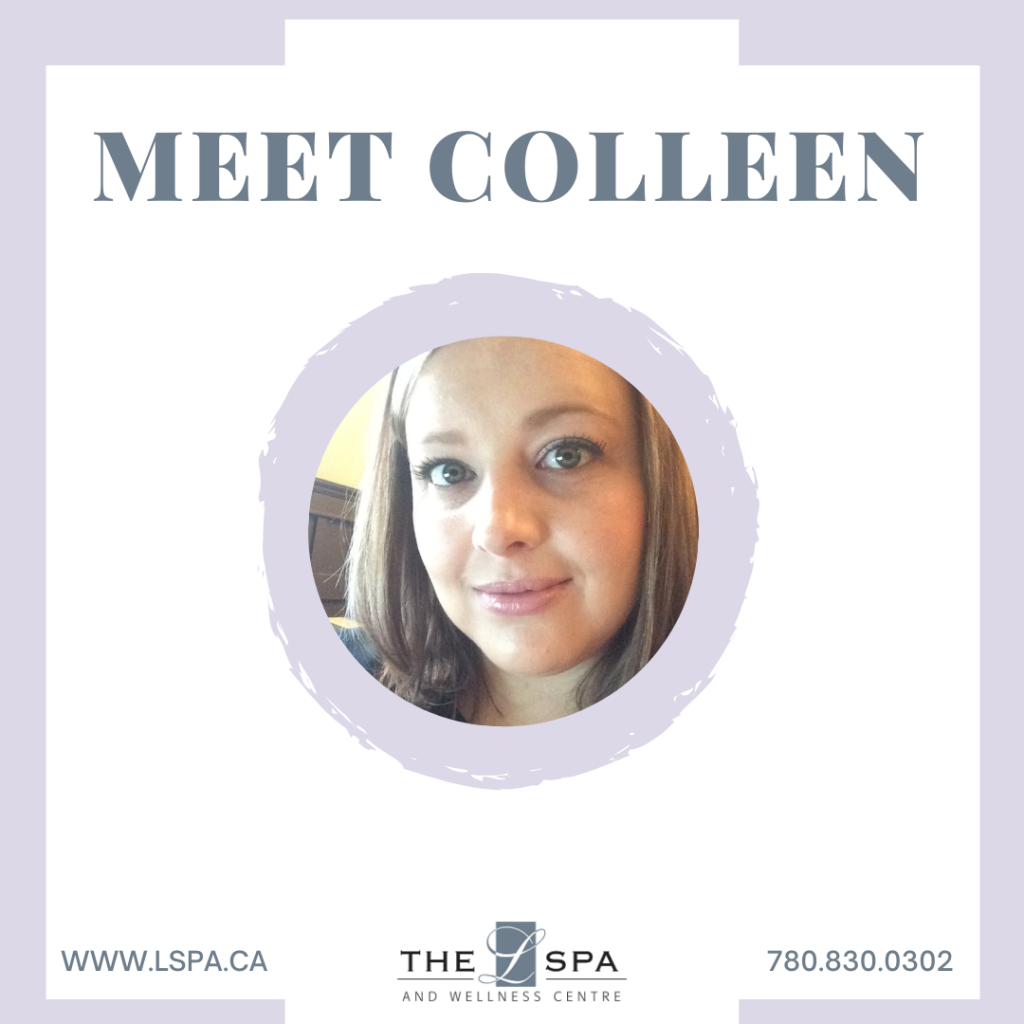 Colleen Nunes ~ Esthetician
Facial Therapies
Epilation Therapies
Reflexology
Ingrown Nail Braces
Spa Junkies, I am so excited to share my knowledge, experience and passion for the health & wellness industry with you. I am an Internationally Qualified Aesthetician, Holistic Therapist and Director of the L Spa & Wellness Centre.
My passions include Skin Therapies, Reflexology, Epilation Therapies and much, much more. My time as a lecturer at an internationally accredited health & skincare academy and as a spa therapist at a five-star resort hotel, has provided me with extensive fundamental skills which I am proud to apply each day.
I absolutely adore my clients and I am honored that they trust in me to take care of their wellness needs. There is nothing more rewarding than working towards a therapy goal and reaching, or surpassing those goals. I am truly blessed to be in one the most rewarding industries possible!
Feel free to reach out with questions that you may have and I look forward to seeing you in my treatment room in the near future.
---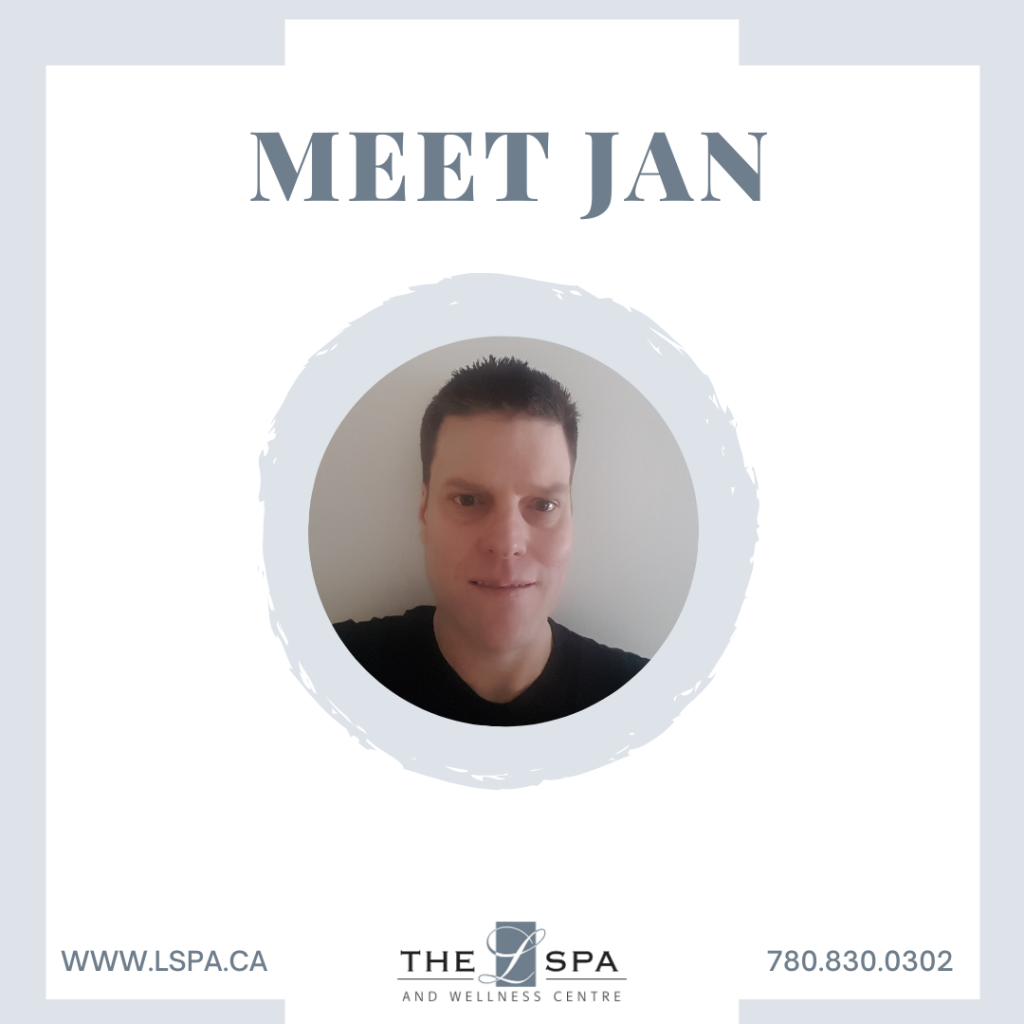 Jan Kudrna ~ 2200hr RMT
Relaxation Massage
Therapeutic Massage
Deep Tissue Massage
Manual Lymphatic Drainage
Myofascial Cupping
Reiki 3rd Level
My name is Jan Kudrna. I have been an L Spa Registered Massage Therapist for 5 1/2 years now.
I have almost 19 years of experience in muscular therapy. I started studying physiotherapy at the University in Pilsen, Czech Republic, in 2002. This program consisted of theoretical knowledge of physiotherapy and massages including practical hours in hospitals, rehabilitation clinics, and spas. I graduated with a Bachelor's Degree in 2005. My working career started as a physiotherapist in the clinic specialized in post-cancer treatments for 2 years. This clinic taught me about rehabilitation programs for clients with cancer and also about manual and machine lymphatic drainage.
My Canadian RMT journey began October 2008, specializing in therapeutic massages, deep tissue ,Manual Lymphatic Drainage and Reiki programs. Although I am not able to practice as a physiotherapist in Canada, my knowledge benefits my clients during each massage session.
My L Spa career started October 2015 and it has been a phenomenal experience to work for a spa, where high standard of quality is of utmost importance. Since joining the L Spa Team I have added Contemporary Cupping and Advance Cupping programs to my list of specialties & modalities.
Feel free to schedule your next massage session with me, and allow me to show you how my wealth of knowledge & experience sets me apart from the rest.
---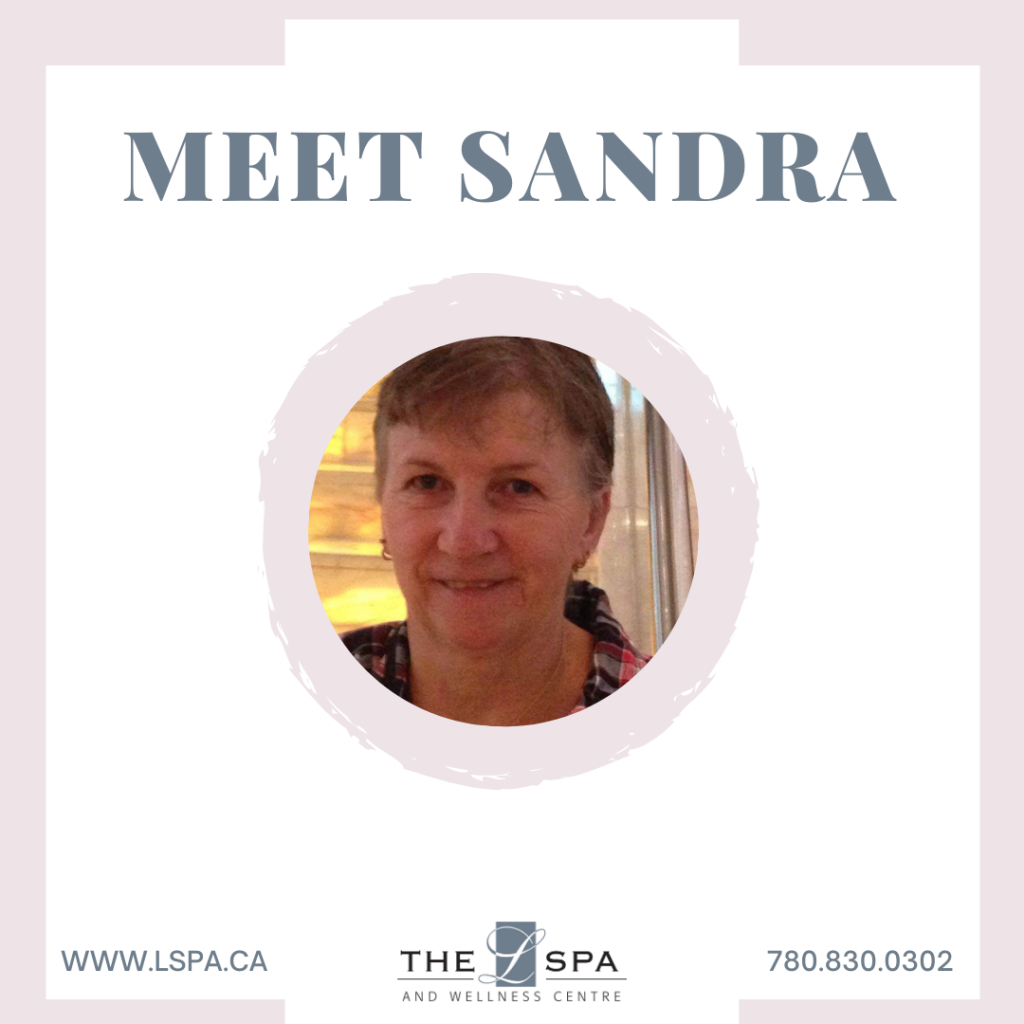 Sandra Metcalf ~ 1100hr RMT
Massage Therapy
Body Therapy
Indian Head Massage
Raindrop Ritual
Hot Stone Massage
Jade Stone Massage
Himalayan Salt Stone Detox
Tranquility Pro Sleep Ritual
Mature individual enjoying semiretirement.
I have 3 grown children, and 6 grandchildren that I love to spend time with. I have a passion for canoeing, love to cycle and cross country ski. When the weather is bleak I enjoy a variety of crafts.
I am an 1100 hr Relaxation RMT. I have enjoyed working at the L Spa for 5 years. They are such a super group of people to work with. I am trained in Swedish Relaxation Massage and also: Hot Stone Massage, Jade stone t
herapy and Raindrop Ritual (combining the healing properties of essential oils with massage) are my favorite modalities.
I also do the Himalayan salt detox and body scrubs. In these times of stress it is extremely gratifying to bring relaxation to my clients.
---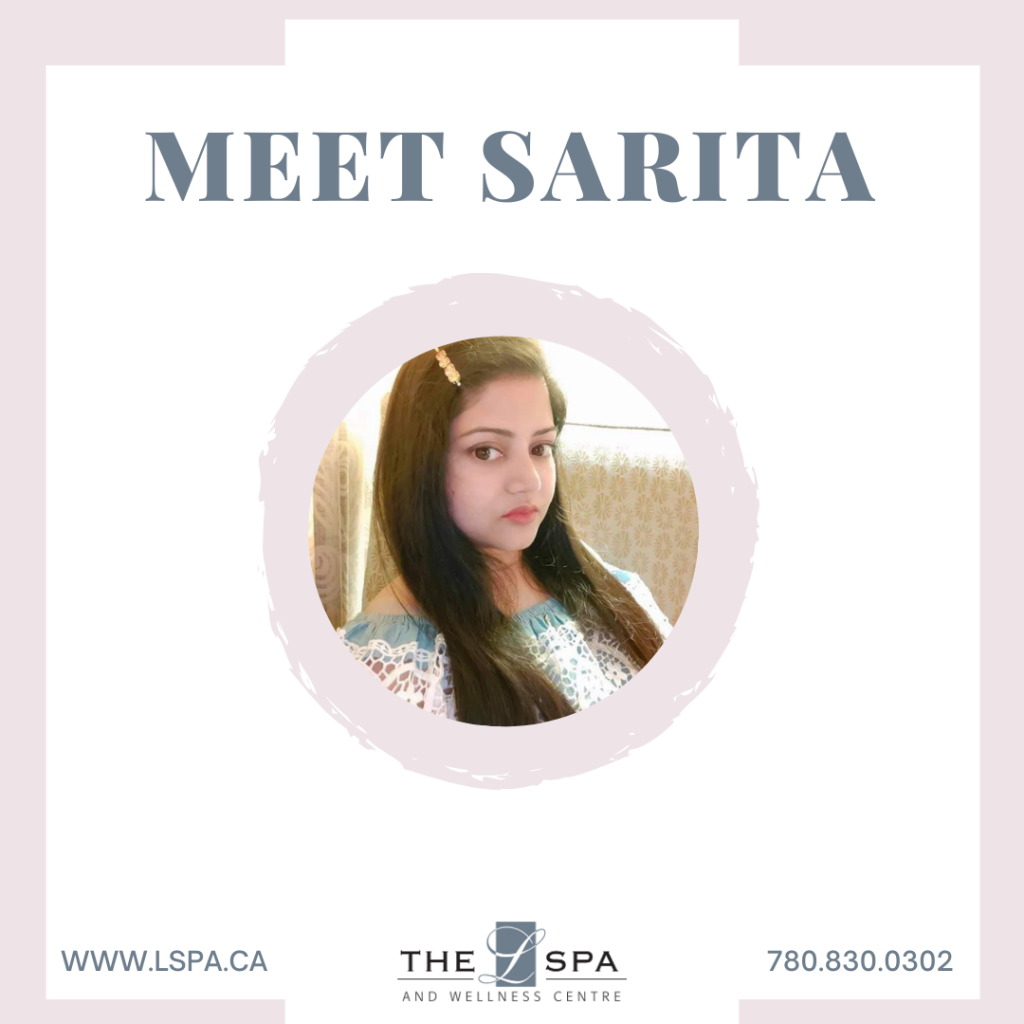 Sarita Yelagani
~ Esthetician
Facial Therapy
Epilation Therapy
Manicures & Pedicures
Massage & Body Therapy
Indian Head Massage
Himalayan Salt Stone Detox
Tranquility Pro Sleep Ritual
I am Sarita Yelagani an esthetician by profession who was born in New Delhi, India. After graduating from Delhi University I completed further education to become an Esthetician. My journey with The L Spa and Wellness Centre started March 2016.
I am very blessed to do what I love here. I truly enjoy providing my clients with more confidence through the services we provide. Since the beginning of my career I have gained a wonderful client base and wish to keep learning new techniques and information I can share with my clients.
I have been in the skin care and makeup industry for several years and I am always keeping up on the latest trends. I am a passionate skin care
professional making flawless skin possible with facial treatments, dedicated to improving your selfies with less filters while running on coffee and the smell of skin care products.
I provide full body including Brazilian epilation services with the use of soft wax in a professional setting. Manicure & pedicures are both transformational therapies I also love to perform.
I have put my heart and soul into creating a delight & satisfying experience when you visit me at The L Spa and Wellness Centre.
---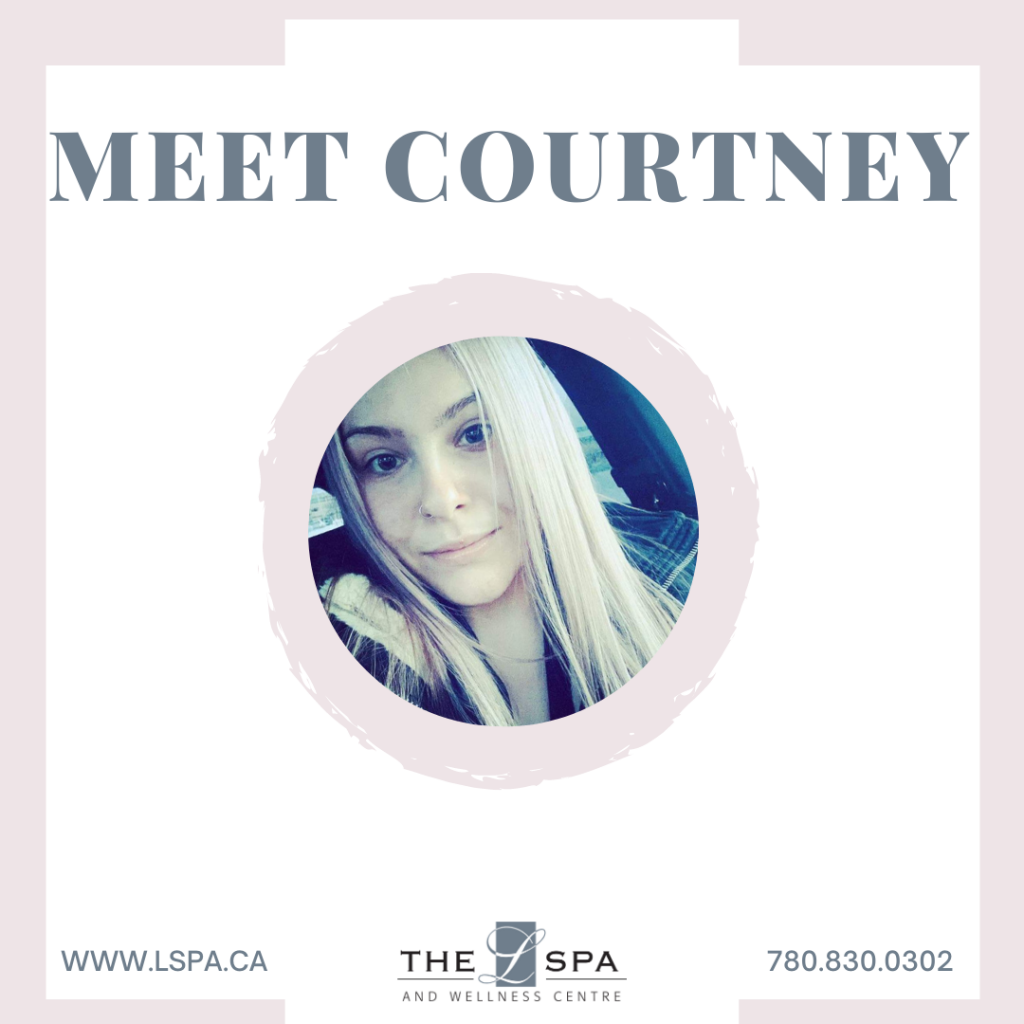 Courtney Dickson ~ Esthetician
Facial Therapies
Manicures & Pedicures
Ingrown Nail Braces
Epilation Therapies
Body Therapies
My name is Courtney Dickson and I have been an Esthetician for over ten years originating from a small farming community in Alberta.
My specialty is waxing but love pedicures and helping with all skincare needs to help you achieve healthy skin and skin care habits. I am a Certified Master Pedicurist through the Northern American School of Podology allowing me to assist with advanced foot therapies including ingrown nail braces.
I'm a mom to a four year old and also work in health care with Alberta Health Services.
I can't wait to see current and new clients in the L Spa for their next exceptional l spa experience. Book with me today!
---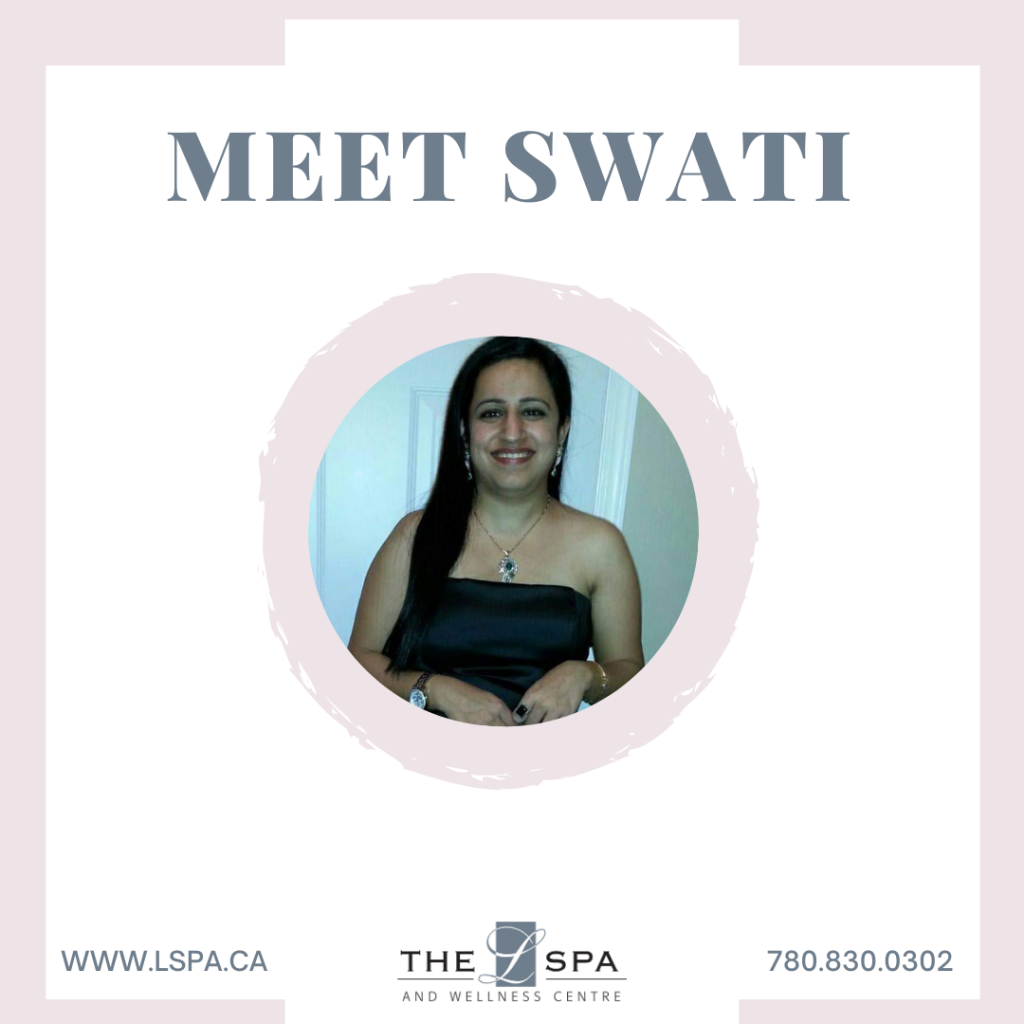 Swati Nayyar ~ Esthetician
Facial Therapy
Manicures & Pedicures
Massage & Body Therapy
Indian Head Massage
Himalayan Salt Stone Detox
Tranquility Pro Sleep Ritual
My name is Swati Nayyar and I am proud mother of three boys who keep me running around the house cleaning the mess made by my little monsters.
I did my diploma in beauty therapy and cosmetology from Orange international School of Beauty and Wellness accredited by United Kingdom. Along with that I did my masters in travel and tourism.
My passion about beauty and wellness started from my childhood as my dad was a retailer of beauty products. I also helped my aunt in her spa since childhood as well. I like to preform facials and beauty therapies but my favourite service is Indian Head Massage.
I feel so proud when my clients tell me I have a magic healing touch to take pain away and make them feel relaxed. This gives me all the motivation to work hard and improve myself in this field.
Looking forward to seeing you all to use my magic healing hands on you to make you feel even more beautiful and to make you feel healed.
---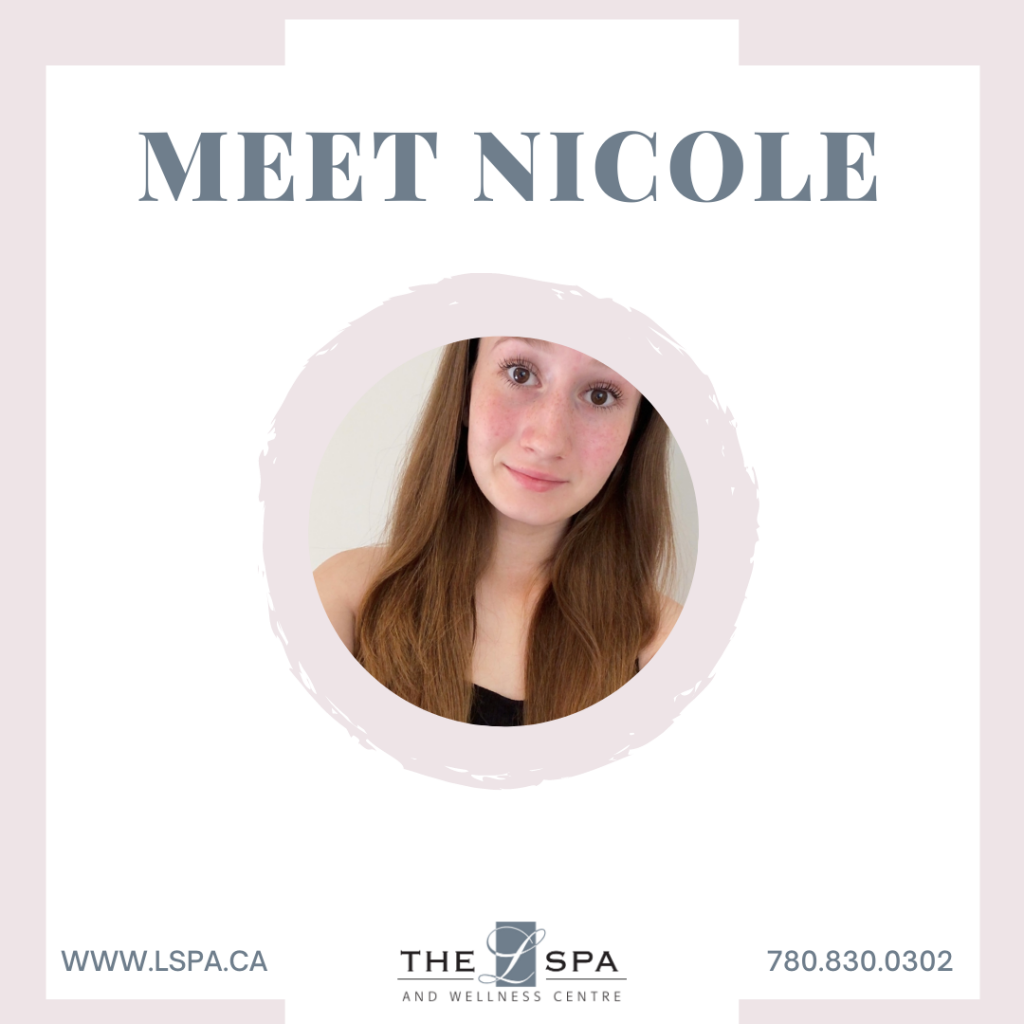 Nicole Klassen
~ Esthetician
Facial Therapies
Lash Lifting
Manicures & Pedicures
Epilation Therapies
Body Therapies
Indian Head Massage
My name is Nicole Klassen, I have been at the L Spa since December 2019. I grew up near Wanham Alberta on an acreage with my two parents, brother and sister. I moved to Edmonton for the summer of 2019 to study Esthetics there, and now am living in Grande Prairie where I will be marrying my fiancé Daniel this summer!
One thing about me is that I love my crafts and will often be found knitting, or working on an embroidery project in my spare time.
I truly have a passion for helping people which led to my career in Esthetics. I love being able to make people feel good both mentally and physically,
whether that's helping someone relax during a pedicure while transforming their feet, or fall asleep during a luxurious facial and waking up to beautiful skin.
My favourite services to provide are pedicures, facials and brow waxing. I love meeting new people and hope to see you in the future.
---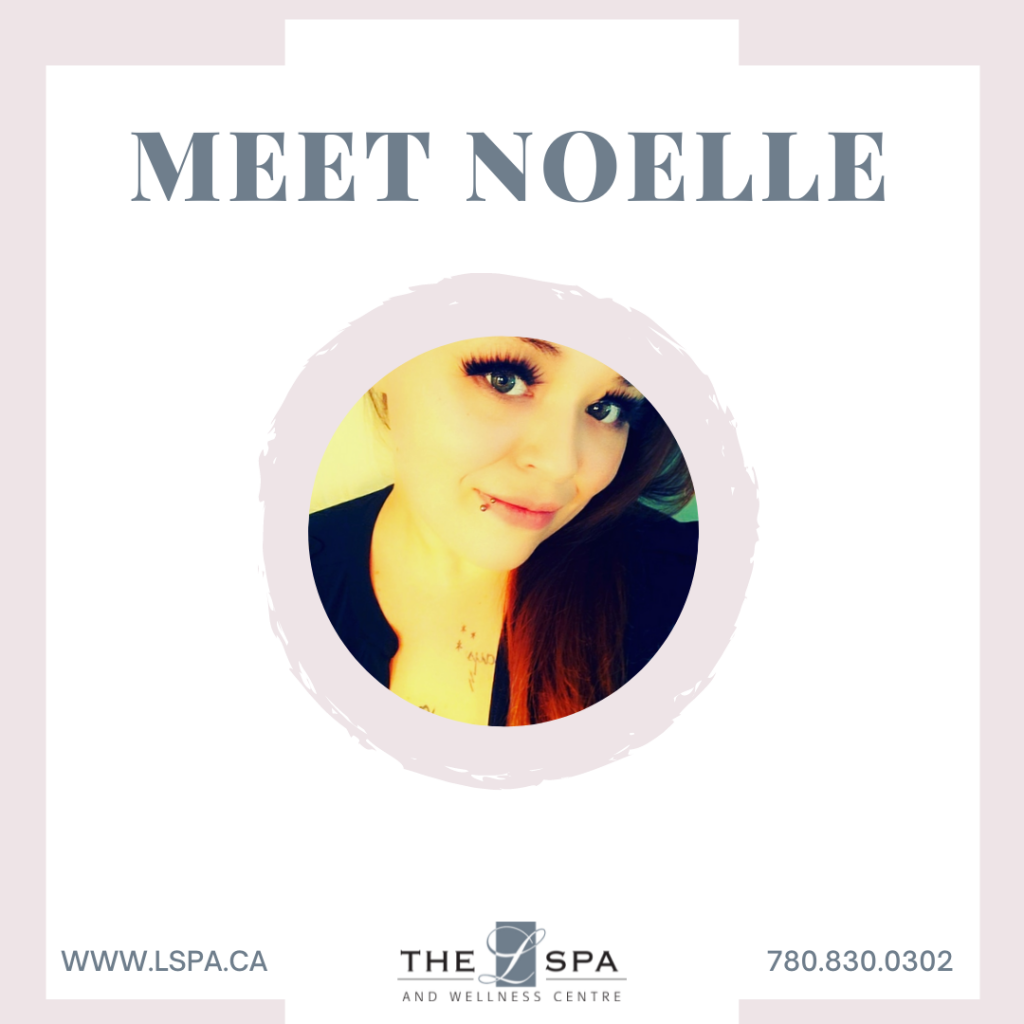 Noelle Roy ~ Esthetician
Massage Therapies & Body Therapies
Indian Head Massage
Manicures & Pedicures
Nail Brace & Nail Art
Tripollar Therapies
Facial Therapies
Himalayan Salt Stone Detox
Tranquility Pro Sleep Ritual
I first joined the L Spa team in 2015, I have been away the last year while I took care of my mental health. I have been doing esthetics for 9 years.
I am a Certified Master Pedicurist as well as an Eminence Certified Esthetician. I have been using Eminence my entire career and I love using mixology to tailor the facial to each guest's specific needs.
I am very passionate about helping people relieve their stress and relax. Whether it's a massage, a body therapy, a facial, or a manicure or pedicure. I also love doing nail art.