Celebrate the beautiful, amazing, inspirational and strong mothers and moms-to-be in your life with dedicated Me-Time at The L Spa and Wellness Centre!​​​​​​​​
Mother's Day, May 14, 2023, is just around the corner and The L Spa and Wellness Centre is helping you with selecting the perfect gift.
Gifts She'll Love
Sweet Deals on Mother's Day Gift Cards ~ Limited Time
​​​​​Our 2023 Mother's Day "Gift Card Gift With Purchase" campaign is now underway until May 14th​​​​​​​, 2023
​​​​​​​Gift cards are the perfect gift as she gets to choose her perfect pamper experience. Available in many customized designs and any denomination, relaxation truly can be gift wrapped! We have gone even further by sweetening the deal with added bonuses!
Allow us to wrap, hold for pick up, or mail your special gift.​​​​​​​​
---
The Gift That Keeps On Giving
L Spa Membership Programs
Give a gift that keeps on giving all year long. Is there a Spa Junkie in your life that you are looking to pamper with a gift of spa'ing & wellness that lasts 12 months?! Give the gift of an L Spa Membership.
The L Spa and Wellness Centre was the first spa in Grande Prairie to offer a Spa Membership program. We believe spa'ing should be a healthy habit, and not just a luxury earmarked once a year. Designed to suit just about any budget, frequent "ME" Time has never been this easy!
Our Original Spa Junkie Membership program was such a resounding success, we've have added a few new membership programs that cater to various relaxation needs.
To check out our Membership Programs Click Here
---
May Features
When a gift says it all! Treat your Mom with the gift of Me Time at The L Spa and Wellness Centre. Allow her to relax, unwind and find her center at the L with our May Features.
Spend time with your mini-me, or treat your amazing mom to side-by-side Blossom & Bloom Pedicures. You can sweeten the experiencing by surprising mom with chocolate covered strawberries from JAX Grill & Lounge. Be sure to order ahead of time.
Schedule your mom for the Mother "Glows" Best Facial allow her to experience a red carpet treatment that will leave her glowing, refreshed and looking her very best! This therapy is beyond current because we use the amazing technology of micro-current to tone & firm skin.
These promotional features are only available during the month of May. Be sure to book ahead of time as our schedule fills up quickly!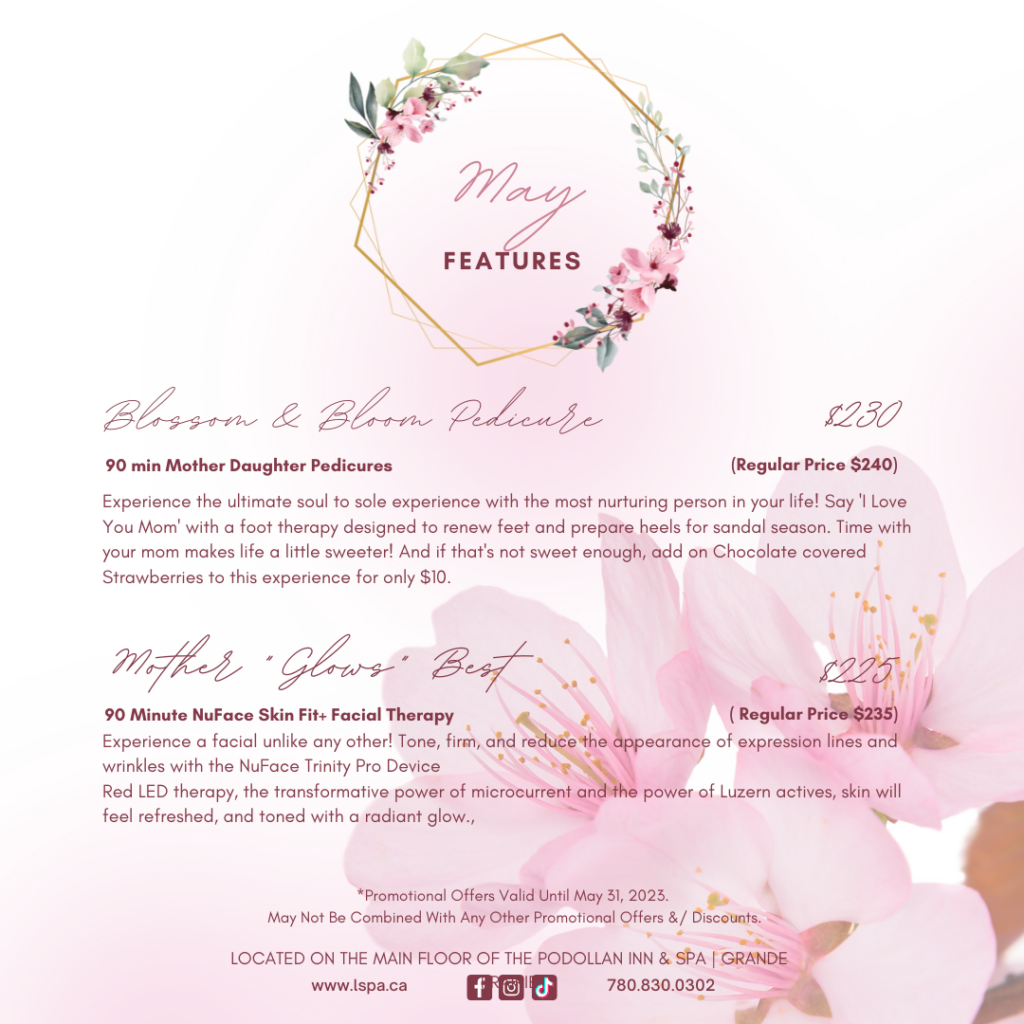 ---
Diva For The Day
Pamper the Diva in your life this Mother's day with our most sought after package! The Diva for the Day includes relaxing ME TIME starting in our Tranquility Lounge followed by a massage, facial, manicure, pedicure & decadent chocolate covered strawberries.​​​​​​​​
NON-MEMBER $450.00
MEMBER: $382.50
Pamper yourself ~ you deserve it! A manicure, pedicure and facial will leave you looking and feeling great. Experience a custom massage and quiet time nestled under warm covers to enjoy the perfect tranquil respite. Package includes chocolate covered strawberries. (Approx. 6 – 8 HOURS)
60 MIN Wellness Massage
90 MIN Luzern Pure O2 Facial
75 MIN Hand Spa Manicure
90 MIN Sole-Soothing Pedicure
Chocolate Covered Strawberries