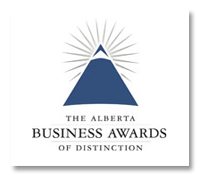 The LSpa & Wellness Centre – A finalist for the
Alberta Business Awards of Distinction
The L Spa and Wellness Centre is pleased to announce it has been selected as one of the finalists for the Alberta Business Awards of Distinction. It was chosen in the Employer of Youth Award of Distinction category.
This great honour was announced by the Alberta Chambers of Commerce on December 20, 2011. Along with being a finalist for the Employer of Youth Award of Distinction for demonstrating outstanding achievement in hiring youth and providing them with career-oriented opportunities, the L Spa and Wellness Centre is eligible for the prestigious Alberta Premier's Award of Distinction.
The "Team" at the spa is one built with integrity, passion and professionalism. It is diverse, both multiculturally and experientially. It is led by Leah Podollan, owner, and Colleen Nunes, Spa Director.
"It is a privilege to work with young people and mentor them with training, job shadowing, guidance and empowering them to develop their personal career aspirations in the name of health, wellness and relaxation", says Leah Podollan, owner of the LSpa and Wellness Centre.
The awards will be announced at a gala dinner on March 2, 2012 at the Marriott River Cree Resort in Edmonton. Each of the finalists is eligible for the evening's highest honour, the Premier's Award of Distinction.
For more information, please go to the Alberta Business Awards of Distinction website atwww.abbusinessawards.ab.ca
We just can't stop growing!
We are proud to unveil our new and improved Wellness Centre on October 1, 2011. We invite you to join in our excitement by dropping by for a tour of our new facility & have the chance to experience all new member exclusive bonuses firsthand.
"ENHANCING WELLNESS Memberships" now include access to a state-of-the-art elliptical, treadmill and recumbent bike… AND free weights! Add-on packages are available for Spa Junkies.
It's a great time of year to get back to routine ~ and what better way to take care of yourself than to work on your health & wellness and then pamper yourself with a spa treatment! This expansion has given us the opportunity to not only grow as a spa but also as a team, offering you more booking options and availabilities. We are proud to have new team members on board who will be growing with us while striving for excellence. We are inspired and motivated by you, our members as we continue on this journey together achieving health and wellness of mind, body and soul.
The International Pedicure Association
The International Pedicure Assocation was developed for the modern pedicurist worldwide, to help meet their needs and concerns regarding pedicures. Through a support network along with the highest levels of education in the industry, safe high quality pedicures can be achieved. To help elevate and differentiate pedicurists who wish to go beyond their basic education, the IPA was founded by the late Dr. Arnold in 2004.
The International Spa Association
The L Spa & Wellness Centre is now a certified member of the International Spa Association. Nearly 1000 spas around the world have joined the ISPA and in doing so, have indicated their commitment to superior standards.
The Leading Spas of Canada – Quality Assurance
The Leading Spas of Canada conducted their extensive Quality Assurance assessments, and The L Spa is proud to be one of the first 50 spas in Canada to receive the coveted accreditation.