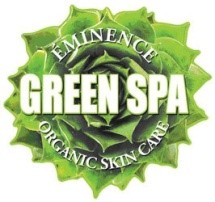 Eminence Organics Green Spa – Eminence Organics initiated a green spa policy and certification program designed to reward those active in the green movement while inspiring others to do more in their spas and salons. Spas and salons must meet specific criteria in order to be recognized as an "Eminence Green Spa" such as reusable and biodegradable options when possible, in-spa recycling programs and more. The L Spa and Wellness Centre has been an Eminence Organics Green Spa since 2011.
Green Spa Certification Program Requirements:
Spas and salons must meet 60% of the following requirements in order to be recognized as an Eminence Organics Green Spa.
Use power strips in treatment rooms and office areas and turn them off when equipment is not in use.
Use reusable or biodegradable options whenever possible with your food and beverage services instead of paper and plastic cups, plates and flatware.
Establish an in-spa recycling awareness program. Place recycling bins next to trash cans with clearly marked signs indicating what constitutes acceptable waste.
Use natural, non-toxic, biodegradable cleaning supplies instead of chemical-based products.
Limit the amount of linens provided to guests. Offer only what they may need with the option of additional linens upon request. This would include towels, robes, etc.
Purchase all condiments and supplies (cream, sugar, paper goods, and hand soaps) in bulk. This is also a wise financial choice.
Buy organic and Fair Trade coffee.
Adjust A/C by two degrees in the summer and turn your thermostat down two degrees in the winter to use less energy. This will also save you money on your hydro bills.
Use halogen, LED, CLF or low-voltage track lighting in at least 50% of your sources.
Program all computer monitors to sleep mode after 15 minutes or more.
Use filtered water taps instead of buying bottles of drinking water. This is a cheaper alternative to buying bottled water and limits waste.
Print all marketing materials on recycled paper with eco-friendly inks.
Reuse paper for in-spa memos, notes, scratch paper.
Display the Eminence Organics Green Brochure in prominent areas around your spa.
Designate time at staff meetings to discuss new and existing environmental efforts.
Provide staff with information on how they can improve their green efforts at home as well in the spa.