Regroup & Relax!
As we settle into fall it is time to regroup and relax! Enjoy the harvest season to its fullest by curling up with a cozy blanket and a hot beverages while in the ambient setting of our Tranquility Lounge, forget about the chilly weather while lounging in our radiant
Far Infrared Sauna with your favourite book; or drift away on a cloud of happiness as therapists skillfully massage away tension.
It is time to relax, refresh and rebalance at the L! If the thought of a blissful spa escape is not tantalizing enough, have you seen our October promotions featuring a Pumpkin Spice Facial and Apricot Hot Stone Massage? These fall scents will leave you craving more and the culinary experts from Jax Grill & Lounge have created the perfect accompaniments in the form of Pumpkin Spice Lattes & Pumpkin Cheesecake Lollipops.
Your next spa retreat is one call away! In the words of Sydney J. Harris:
"The time to relax is when you don't have time for it."
---
Menu Feature:
Take A Break!
Unwind and find your centre. Allow stress to leave your body as a Far Infrared rays gently heat your body easing tense muscles and releasing and abundance of happy hormones. Relax in our state-of-the-art pedicure chairs and enjoy a gentle roller massage while therapists take care of tired, achy feet and hydrate hard working hands.

---
Product Feature:  Eminence Organics Pumpkin Latte Hydration Mask
Delight in a mask unlike any other! A dreamy puree of fresh pumpkin rich in beta-carotene fights the effects of environmental damage on your skin. Promote natural moisture and restore dry skin with the Pumpkin Latte Hydration Mask from Eminence Organics Skin Care. Hurry before this seasonal favourite is gone!
---
L Spa Charity & Member of the Month
Sunrise House
chosen by
Catherine Unger

Congratulations Catherine Unger our October Member of the Month and Sunrise House as her charity of choice to help children in need.
QUOTES FROM CATHERINE:
"Every child should feel safe at home, but when that isn't the case I'm so glad there is a local place they can go."
"The service at the L Spa is amazing, from the front desk, therapists to the spa attendant. They are kind, professional and that is why I'm a loyal Spa Junkie member."
---
October
 Wellness Bonus – 

Limited Time Offer! Apricot Warm Scalp Massage



Aromatic, warming and luxurious! Enhance your next L Spa face or body experience with a 15MIN Apricot Warm Scalp Massage for only $25 (value $45)!
*Apricot Warm Scalp Massage can only be scheduled as an enhancement. This therapy is not a stand-alone treatment.. Valid during the month of October. Terms & conditions apply.
* Same day scheduling required. Must be scheduled as a lash and brow tint. Complimentary brow tint cannot be exchanges for an alternative service. Terms & Conditions Apply.
---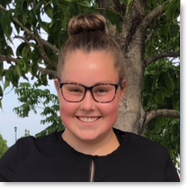 L Spa Team Member Highlight
Jenna Jobson |
"I enjoy working at the L Spa because it is a relaxing and welcoming environment. My coworkers are all very encouraging and supportive."   – JENNA JOBSON
Congratulations Jenna – and thank you for being part of our team!