Repair, regenerate and protect!



It is nearly impossible not to mention "summer" and "SPF" in the same sentence but what do you do when you have been exposed too much sun? The damage caused by extended UV exposure ranges from inflammation, dehydration to DNA damage and aging!
Repair, regenerate and protect skin with the Repair and Protect Collection from Éminence Organic Skin Care. This collection is designed to help you face the elements year round – Slay the Sun, Contend with the Cold, Wage War or Wind and Battle the Beach!
The Rosehip & Lemongrass Repair Balm offers a nourishing and repairing boost. Cell regeneration is stimulated and DNA repair promoted to help reduce redness all over skin or as a spot treatment. The Rosehip & Lemongrass Lip Balm SPF 15 hydrates, tones and repairs the delicate skin of the lips. Organic rosehip oil, rejuvenating lavender, natural zinc oxide, vitamin A & E boosts moisture and defends lips from UV rays.
Soothe skin after exposure to the elements with the Rosehip & Lemongrass Soothing Hydrator for Face & Body. The lightweight lotion features a cooling blend of camphor and menthol for all over relief and rejuvenation. An added benefit for our active Spa Junkies is the fact that the formulation acts as a mild insect repellant.
Make this collection your secret weapon against the damaging elements of the North!

---

Menu Feature:
TriPollar Radio Frequency Therapy
Lift, firm, tone and sculpt with TriPollar Radio Frequency therapies! As one of the most sought after therapies you can experience immediate, visible results from the very first session. Schedule your complimentary consultation today!
---

Product Feature: 
Éminence Organics Bright Skin Overnight Correcting Cream
Wake up to brighter, hydrated skin with the Bright Skin Overnight Correcting Cream from Éminence Organic Skin Care. This powerful formulation reduces melanin by 51%, dark spots by 29% and increase skin lightness by 24% and hydration by 49%.
---
L Spa Charity & Member of the Month
Odyssey House

chosen by Tara Copely

Congratulations Tara Copely, our August Member of the Month – she has chosen Odyssey House as her charity of choice. The L Spa will donate Tara's monthly membership dues to this charity.
"I feel Odyssey House is a great asset to the community and to women in need.
"Spa Junkie Tara says, "I enjoy the L Spa for the friendly service and the massages have become a regular part of my wellness routine."
---

August Wellness Bonus –  Stay bikini ready!

Stay bikini ready with this unbeatable offer! Whether you are new to waxing or a pro, we invite you to take advantage of $30 Brazilian waxing during the month of August!*
*Discounts & promotional offers may not be combined. Terms & conditions apply.
---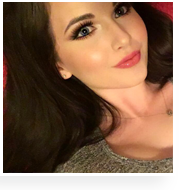 L Spa Team Member Highlight
Hannah Seaward |
"I am so grateful to have been given the opportunity to be a part of the L Spa Team. I absolutely love working here! Since my first day here the team has been amazingly supportive, helpful, and very welcoming. I love being able to work in such a relaxing, beautiful environment; meeting so many new people every day, providing them with an amazing service so that they can leave with a smile on their face!"
Congratulations Hannah, thank you for being part of our team!